RAO NARENDER YADAV / E – editorialthepress@gmail.com
The green oasis amidst the concrete maze of urban cobwebs – Karma Lakelands is a pristine destination to delve into nature. Swathed in rich biodiversity, spread over 300 acres and located just outside the National capital on Jaipur Highway, this eco-friendly golf resort, is definitely much more than a recreational place and makes you feel the warmth of nature on every visit.
The sprawling green resort now has a corner dedicated to legendary artist Nek Chand, who had an astounding impact on Ashwani Khurana, President, Karma Lakelands. Khurana himself is an avid nature lover and eco-warrior. An aesthetically placed board, in the memory of Nek Chand, at the resort reads, "Legends are eternal! Through their words and actions, they continue to inspire others forever. The story of legendary artist Nek Chand, the famous creator of Chandigarh's Rock Garden, and his contribution in making Karma Lakelands a reality is one such remarkable tale of inspiring ideas and extraordinary actions."
In 1979-80, Khurana had a chance encounter with Padma Shree Awardee Nek Chand. As destiny desired, they continued to interact and their relationship turned into deep friendship. The master creator also inspired Ashwani to develop a keen interest in tree planting, which over the years transformed into a passion towards promoting responsible environmental practices.
Sharing more about his interaction with Nek Chand, Khurana recalls, "It was an overwhelming experience to meet him four decades ago and soon Nek Chand ji became my mentor and guide." A young businessman, in 1987, Khurana took a vow to plant one lakh trees, which he eventually did during the next one decade. While Nek Chand turned his passion for art into an incredible garden which became the epitome of natural conservation, inspired by his vision, Khurana also decided to commit his life to the harmony of humans and nature.
Khurana shares how Nek Chand's ideas were quite ahead of his time and have become extremely relevant today. "In 1980s hardly anyone knew about the concept of Rain water harvesting, but he was practising it during that time and also shared the idea with us. Similarly, his ideas on recycling, nature conservation and water management are very much in use nowadays."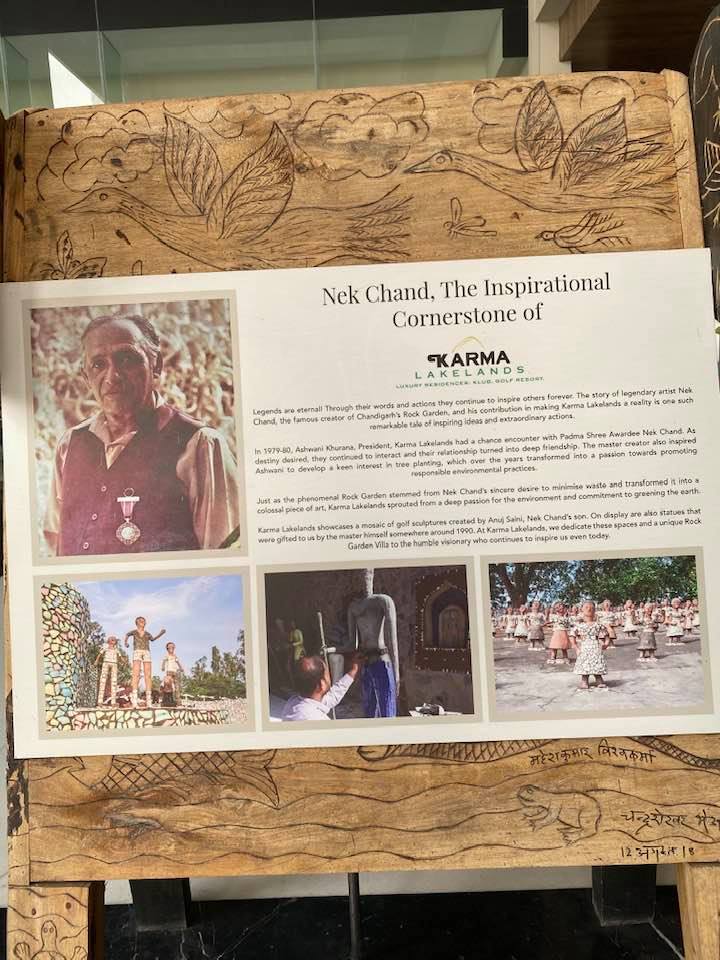 Born in Shakargarh region (now in Pakistan) of district Gurdaspur, Nek Chand's family came to Chandigarh after partition. A road inspector in Public Works Department, Chand was a self-taught, creative artist and formed the splendid rock garden single handedly. The Garden is spread over 40 acres, with more than 3,500 works and is one of its kind in the world.
Nek Chand passed away in June 2015. His life, ideas and his work has left a deep imprint on millions globally, who continue to take forward his legacy in myriad ways. "Just as the phenomenal Rock Garden stemmed from Nek Chand's sincere desire to minimise waste and transformed it into a colossal piece of art, Karma Lakelands sprouted from a deep passion for the environment and commitment to greening the earth," shares Khurana, with deep respect towards the master artist.